Dream Wedding Dress Lives Here
Discover Your Perfect Bridal Gown at Our Enchanting Collection – Where Dreams and Elegance Unite
Nadia Asfour: A Vintage Fashion Visionary Dedicated to Brides' Elegance
Designer Nadia Asfour possesses a keen eye for all things vintage and a remarkable flair for fashion. With an ever-watchful gaze for upcoming trends destined to grace the catwalks, she has emerged as a prominent figure in the fashion industry. Nadia's demeanor exudes strength and silence, while her passion lies in collaborating with brides-to-be, making her an invaluable asset to a prestigious high-end boutique that she expertly manages.
In recognition of her exceptional talent and dedication, Nadia received the Brilliant Minded Women 2017 Award, a testament to her extraordinary achievements. Working harmoniously with brides on a daily basis, she strives to bring out the best in each bride's elegant look while keeping their budget in mind. The boutique she oversees is a small yet exquisite haven, offering an unparalleled experience for brides-to-be without the exorbitant price tags often associated with high-end establishments.
In her philosophy, Nadia firmly believes that customers should always come first, and she is committed to providing the ultimate experience for all brides, ensuring that their dreams are realized on their special day.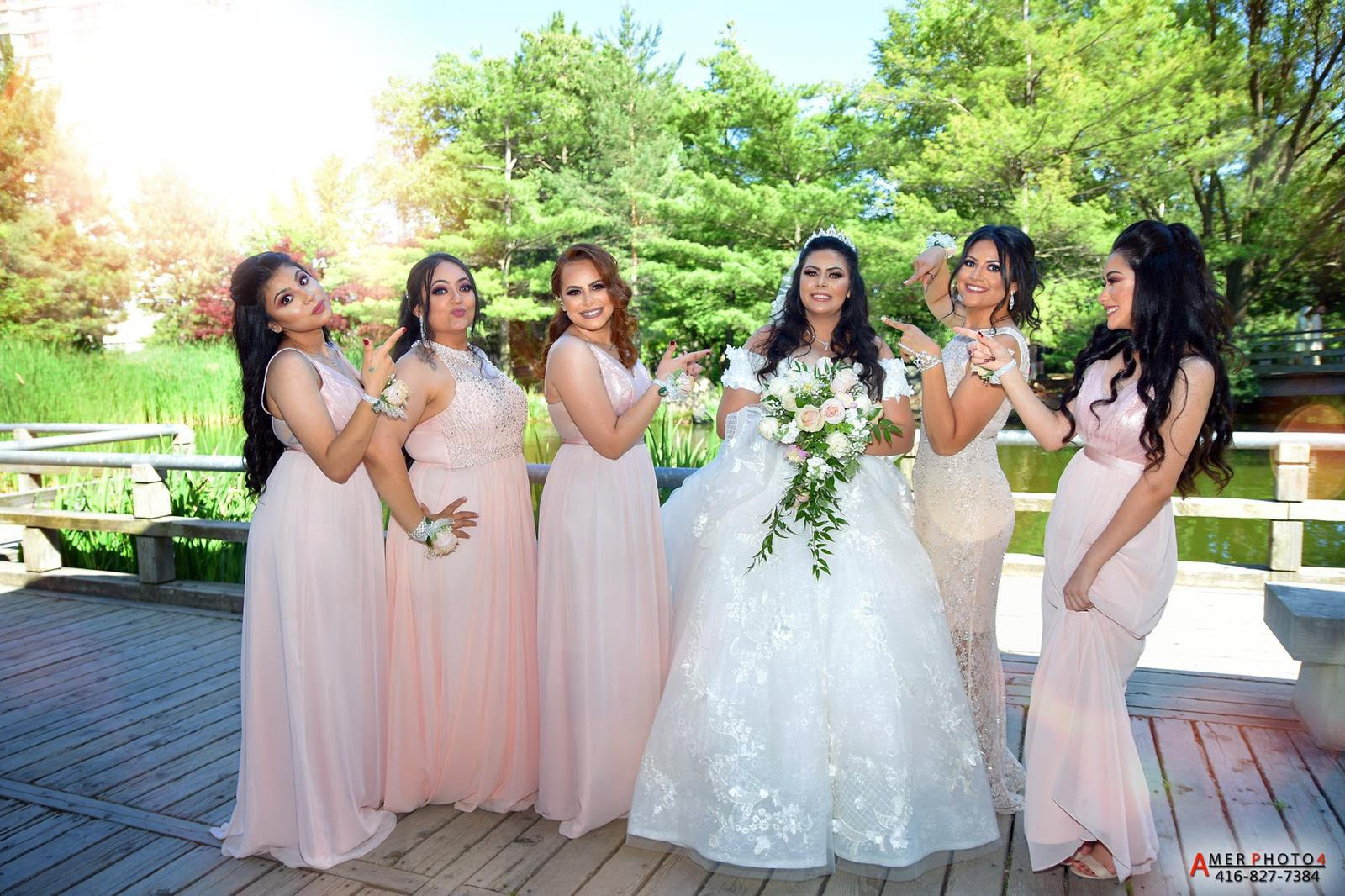 Dress for All Events
We offer a handpicked collection of dresses for weddings, parties, and special events. From brides to bridesmaids and mothers of the bride, our diverse range ensures a perfect fit for all. Embracing inclusivity, we also provide elegant dresses specially designed for hijab-wearing individuals. With expert tailoring services available, we ensure every customer looks and feels their best, creating cherished memories for a lifetime.
Elegance and Accessories
We offers a curated collection of accessories to complement any wedding or special event look. From enchanting headpieces and dazzling necklaces to stylish shoes and exquisite clutches, our carefully chosen pieces add the perfect finishing touches. With personalized advice and attention to detail, we ensure your celebration ensemble is truly unforgettable.
Expert Dress Alterations
we offer expert tailoring services to ensure a flawless fit for every customer. Our skilled tailor, meticulously adjusts and alters gowns to accentuate individual figures and styles. From weddings to special events, our custom-made masterpieces guarantee confidence and elegance for a lifetime of cherished memories.
This shop is incredible!!! The owner Nadia is absolutely lovely, and is a fantastic bridal gown designer with a great eye for fashion. I went in looking for a special occasion evening gown, and her collection was small but stunning!! The prices were also very fair. Nadia was SO helpful picking out latest designs that are flattering for me. It was especially appreciated cause I was shopping alone and she really went above and beyond. I also really trust her to do the alterations perfectly! Although I didn't end up picking up the dress, I will definitely be coming back and recommending it to my friends and family 😊
Nana Couture is definitely number one bridal Shop that every bride should go to in my opinion. It has very good quality dresses and great designs in affordable prices. Nana was so nice and patient with me, she helped me choose the dress the fits my style , fashion and elegant. I can't be more grateful for that. Thank you for making this experience unforgettable.
Nana Couture was the best bridal shop I have ever entered while I was trying to complete my bridal look by finding the perfect accessories that matches my dress. We drove from Ottawa all the way to Mississauga after hearing lots of great things about Nadia. Honestly if you are a bride or you are a guest attending a wedding or event make sure your first stop is Nana Couture you won't regret it! My mom was able to find the perfect dress that is made for her after searching for months, she found what she was looking for! Thank you so much for giving us a great experience Nadia!
I loved this place. We got three dresses for me , my sister, and my mom from Nana couture and they were super nice and elegant. Thank you Nadia for being very nice and welcoming and giving us the perfect experience for my sister's wedding.
Stay In the Spotlight: Be the First to Know About Our Latest Arrivals! Join Our Exclusive Email List for Updates on Wedding Dresses and Party Dresses That Will Take Your Breath Away.